Key note speakers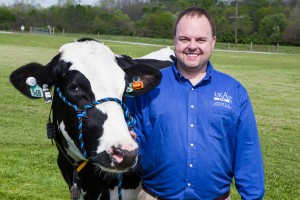 Dr. Jeffrey Bewley gave a key note speach on Data management and decision support.
Dr. Jeffrey Bewley is from Rineyville, Kentucky where he grew up working on his grandfather's (Hilary Skees) dairy farm.  He received a B.S. in Animal Sciences from the University of Kentucky in 1998.  In 2000, he completed his M.S. in Dairy Science at the University of Wisconsin-Madison under the direction of Dr. Roger Palmer.  His PhD work under Dr. Mike Schutz at Purdue University focused on the application and economics of Precision Dairy Farming technologies.  Jeffrey's program focuses on precision dairy technology implementation, mastitis prevention, cow comfort, lameness prevention, and decision economics.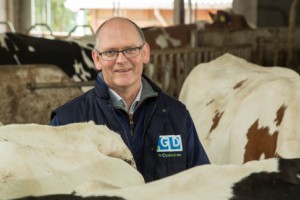 Prof. Ynte Schukken gave a key note speach on Animal health challenges on dairy farms increasing in size – are protocols and precision farming compatible?
Prof. Ynte Schukken is currently the Chief Scientific Officer at GD Animal Health in Deventer, the Netherlands, and a Professor of Management of Farm Animal Health at Wageningen University with a courtesy appointment as Professor of Farm Animal Disease Control Programs at the Veterinary College at Utrecht University. He served for 16 years as Professor of Epidemiology and Herd Health at Cornell University. He received his DVM degree from the University of Utrecht, in Utrecht, The Netherlands in 1985 and his PhD from the same university in 1990. Dr Schukken worked as a practitioner in private practice and the university ambulatory clinic in the Netherlands and came in 1999 to North America to take up the role as director in Quality Milk Production services. In 2013, he returned to the Netherlands to take up the role as chief scientific officer at GD Animal Health. Dr Schukken's research approach is based on understanding epidemiology and pathobiology of the diseases and infections in animal populations. Dr. Schukken is interested in understanding population dynamics of infectious diseases in animal populations and in application of epidemiological, statistical and mathematical methods to animal disease research. At GD Animal Health, Dr Schukken is responsible for overseeing the four animal division and the research and development group. GD Animal Health invests annually approximately 2 million Euro in research and development and on top of that partners in many projects and programs with external partners. Thereby fulfilling its mission of 'Teaming-up for animal health, in the interest of animals, their owners and the society-at-large'.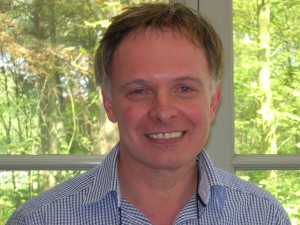 Prof. Daniel Berckmans gave a key note speach on Novel precision farming technologies.
Prof. Daniel Berckmans obtained a Master Degree and a Ph. D. in Bio-Science Engineering at the Katholieke Universiteit Leuven in Belgium. He is full professor, leads the Division M3-Biores (Measure, Model and Manage Bioresponses), Department of Biosystems, Faculty of Bioscience Engineering at the Katholieke Universiteit Leuven. The main field of research consists of real time signal analysis of humans, animals and plants, by using technology like wearables, cameras and microphones. The activities comprise the measurements, modelling and monitoring or management of individual living organisms. The focus lies on the development of real time wearable algorithms to monitor and control Complex, Individual and Time varying Dynamic (CITD) living organisms. During the last 20 years, the research group permanently counted approx. 25 researchers who prepare a Ph.D. The research team is considered as a worldwide leading team in Precision Livestock Farming. Half of the team is working on animal applications and half on human applications like intensive care unit, stress monitoring, sleep monitoring etc. Daniel is co-author of 253 scientific articles in peer reviewed journals and 364 papers in conference proceedings. He is member of several international advisory boards, visitation commissions in several European countries, and 6 international professional organisations worldwide. Daniel has been a member of more than 61 Ph. D commissions in 9 different countries. Since 1982, 15 products have been developed for the world market in co-operation with industrial partners with whom royalty agreements were concluded. 13 patents have been submitted and about 20 projects with a mean value of 400.000 euro per project are continuously managed within the group. He is coordinator of several EU-projects with a total value of over 10 M euro. Daniel is co-founder of 2 spin-off companies: BioRICS NV in 2006 and Soundtalks NV in 2011. Written research agreements have been signed with over 35 research teams worldwide. About 125 theses for engineers (5-years-master's degree) have been finished in the team.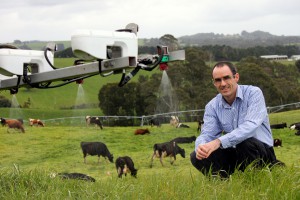 Dr. James Hills gave a key note speach on Precision feeding and grazing management for temperate pasture-based dairy systems.
Dr. James Hills is a Research Fellow at the Tasmanian Institute of Agricultures Dairy Centre, where he is the Research and Development team leader. He currently leads a team of researchers focusing on research in the areas of feedbase, animal nutrition, biophysical and farm-system modelling and precision agriculture and new technologies relevant to temperate pasture-based dairy systems. He has a particular interest in variability in farming systems and the use of technology for measuring and managing this variability to improve the efficiency and sustainability of production. James completed a Rural Science Degree followed by a PhD at the University of New England, Armidale, in the late 1990's. Following this, James worked in the horticultural industry in Tasmania on various research and development projects and in 2012 joined the Dairy Centre at the Tasmanian Institute of Agriculture as the research and development team leader. James currently leads a number of projects assessing precision agriculture technologies and their relevance to pasture-based dairy systems, including the use of sensor based technologies to target nutrient inputs that avoid nutrient dense zones in pastures. James also has a keen interest in the nutrition of pasture based dairy cows and during the past year has led a national Dairy Australia commissioned review on an evaluation of the likely effects of individualised feeding of grain-based supplements to pasture-based dairy cows. The results of this study have been published recently as an invited review in the Journal of Dairy Science. James is also involved in a collaborative project with the CSIRO looking at the impact of feeding grain-based supplements in the Dairy on grazing behaviour, dry matter intake and milk production. James is also leading a project examining the use of automated variable rate irrigation technology for improving the efficiency of irrigation application to pastures.  This project also involves collection of data for benchmarking and monitoring purposes and involves collaboration with research across Australia from the cotton, dairy, sugar and rice industries.