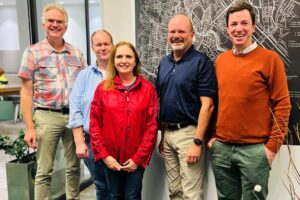 As the leaders of this international collaboration, Henk Hogeveen, Marcia Endres, Nicolas Lyons, Michael Iwersen and Trevor deVries endeavor to establish an unbiased, progressive, collaborative network for advancing the exciting field of precision dairy farming. This informal network will work together, possibly with others, to host precision dairy farming meetings each year. We envisage two types of meetings: regional meetings, aimed at regional dairy producers and advisors as a means of extension as well as International Scientific meetings, as a means to exchange research results and think and discuss developments in the field of precision dairy farming. The meetings will be focused on the technology needs of dairy farmers and dairy cows with a strong emphasis on adoption, implementation, and real-world applications. By nature, this collaboration will intimately involve many innovative strategic commercial partners. 
Henk Hogeveen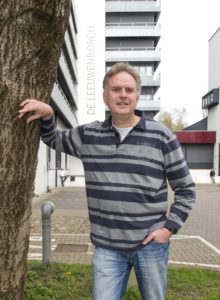 was born in Nijkerk, the Netherlands on a dairy farm that was later moved to Leusden where he grew up. At the age of 22, Henk had to decide whether to become a farmer or not. After some doubts (and depending on the weather and milk price still some regrets), Henk did not take over the family farm. In one of the first precision dairy farming projects in the world (the Dutch "Milk Production Project"), in 1994 he received his PhD at the Veterinary Faculty of Utrecht University on the topic of Automated diagnosis of mastitis problems. After work at various Dutch research institutes, always on the crossroads of dairy farm (animal health) management, technology and economics he started working at the Business Economics group of Wageningen UR, where he currently holds a personal chair in Animal Health Management. As part of that position he is also associated with the Faculty of Veterinary Medicine of Utrecht University. Together with his team of faculty, postdocs, PhD students and MSc students he works on high quality research to support farmers with decisions on animal health. He does so by combining knowledge on animal health and physiology with economic modelling. Precision dairy farming is one of the fields Henk is active in.
Professional webpage
LinkedIn
Twitter
Marcia Endres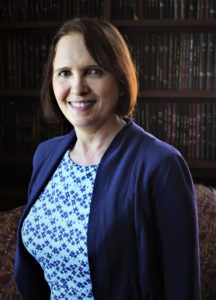 is a Professor in the Department of Animal Science at the University of Minnesota, USA and for the last 17 years has focused her research and extension efforts in the area of dairy cattle management, welfare and behavior. In recent years, along with her team of students and research scientists, she has worked with precision dairy technologies, including robotic milking systems, cow behavior and temperature sensors, and automated milk feeders. All these technologies can help improve animal health and welfare on dairy farms. The dairy farms at the University of Minnesota use individual cow sensors and automated milk feeders, and so far, about 150 dairy farms in the region have collaborated in her precision dairy farming projects. Marcia coordinated the 1st US Precision Dairy Conference and Expo in Rochester, MN, June 2013, an international event with 520 attendees from 24 countries and 25 US states. She continues to coordinate the Precision Dairy Conferences which are held every other year in the US (odd years). Marcia received her Ph.D. from the University of Minnesota, M.Sc. from Iowa State University, and a Veterinary Medicine degree from University Federal of Parana, Brazil.
Professional webpage
LinkedIn
Twitter
Nicolas Lyons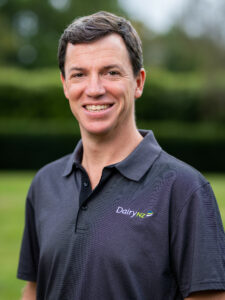 Nicolas holds a degree in Agricultural Engineering and a PhD in Veterinary Science, with a very strong orientation towards dairy production in both of them. He has almost 20 years of dairy industry professional experience working directly with farmers and in very close relationship with researchers, farm consultants, milk processors and service providers, both in private and public organisations mainly across Argentina, Australia and New Zealand.  He has a strong expertise in dairy R&D and is recognised internationally for his leadership in the areas of precision dairy farming, technology and robotic milking. His main responsibilities have always been to understand and analyse current on-farm and industry situations, conduct research in an effective and appropriate manner; but primarily developing, delivering and monitoring effective ways of transferring that body of knowledge to the wider industry. He has built multidisciplinary teams and successfully developed and led large collaborative programs of work. Nicolas is currently Head of Science at DairyNZ, where he provides people leadership and development to DairyNZ's forage, farm system and animal scientists as well as contributing to science direction and the leadership of collaborators in science programs and strategies.
Professional webpage
LinkedIn
Twitter
Trever deVries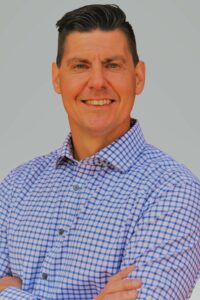 Dr. Trevor DeVries is a Professor and Canada Research Chair in the Department of Animal Biosciences at the University of Guelph. He has been on faculty there since 2007. In that position Trevor leads a highly productive research program focused on dairy cattle nutrition, management, behavior, and welfare. One of the primary goals of Trevor's research program is to produce research results that can be applied on farm; to date his research has greatly contributed to solutions that have been adopted by dairy nutrition industry. Thus, he is committed to transferring these results to those end users. Application and external recognition in this regard is demonstrated in that he has given numerous invited presentations at local, national, and international meetings and conferences. Trevor also contributes significantly to the dairy industry through his teaching activities. His teaching at the University of Guelph has spanned diploma, degree, and graduate students, teaching applied diploma and undergraduate courses in dairy production, dairy cattle nutrition, and dairy herd management. Trevor works diligently in service to the dairy industry and scientific community; he serves on several university committees as well as various local, national, and international professional and industry committees. 
Professional webpage
LinkedIn
Twitter
Michael Iwersen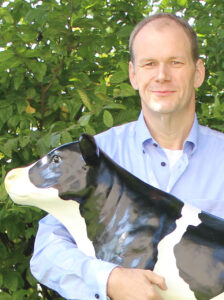 After completing his vocational training, Michael studied Agricultural Sciences in Kiel, Germany with a focus on animal production. During his studies, Michael worked on a commercial dairy farm and was responsible for the herd management of approx. 1,000 animals after graduation. In 2006, he received a second degree in Veterinary Medicine from the Freie Universität Berlin, Germany. Currently, Michael is assistant professor at the University of Veterinary Medicine in Vienna, Austria and head of the Precision Livestock Farming group at the Clinical Unit for Herd Health Management, University Clinic for Ruminants. Michael's a research focuses on veterinary medicine at the herd level, which includes aspects of preventive medicine, data management, precision dairy farming technologies and targeted treatment strategies. The topics worked on with his team of PostDocs, PhDs, and students are chosen to be relevant to farmers and veterinarians and applicable in practice. Michael was coordinator of the 3rd International Precision Dairy Farming Conference held in conjunction with the 10th European Conference om Precision Livestock Farming in Vienna in 2022, an international event with more than 350 participants from 28 countries.